Mobile Caravan Repairs in West Beach
Around Australia Caravan Repairs
Mobile Caravan Repairs West Beach 5024
For the very best mobile caravan repairs in the West Beach area of SA, call in the experts from Around Australia Caravan Repairs. Being a totally mobile service means we offer the ultimate in convenience. We come to you, make the repair, perform the work in quick time and offer some of the most competitive prices in the trade. So pick up the phone and call today.
Mobile Repairs for Your Convenience
As our family owned and operated business also loves the freedoms associated with caravanning, we totally understand that you require a fully mobile servicing and repairer who can come to you, wherever you are, every single time. We are as close as a phone call or email away, so never stress if your caravan is not performing at its best. We'll get there in quick time and get it sorted.
Hot Water and Fridge Servicing/Repairs
The idea of a caravan – whether you are travelling or stationary in a park – is to have the conveniences of home. Two of those conveniences is a constant supply of hot water as well as a refrigerator that runs at its optimum. Problems with either appliance can lead to a miserable existence in your mobile home away from home. Our team of experts can service, repair or replace your fridge or hot water system. We'll help keep your caravan life comfortable.
Our Services
Over 10 years of experience
The fastest, most efficient service 
Highest standard of quality & service
The friendliest team you will meet
Prices that can't be beaten
Monday to Sunday 8:00am– 6:00pm
Caravan Plumbing & Electrical Servicing/Repairs
Just like your home, caravans run on electricity and also having a plumbing system for water supply and waste water. Issues with either of these will prove to be a major inconvenience at the least, or possibly a major catastrophe. Don't put it off. If your electrical system is playing up, or your are suffering a water leak or some other plumbing problem, call us in fast to get the situation rectified. We are fully qualified experts when it comes to both electrical work and plumbing.
About AAC Repairs and Our Services
If you are in the 5024 postcode zone of West Beach and SA, call AAC Repairs for all your mobile caravan servicing and repair requirements. We're not rated the best in Adelaide for no reason. Our work is fast, high quality, and our prices are fair and affordable.
Our family owned business can assist you with the following:
Weatherproofing
Welding and modifications
Brakes and wheel bearings
Awnings & window repairs
Fridge and hot water system repairs
Solar panel installs
Electrical and plumbing
Fully mobile caravan repair service
All general caravan repairs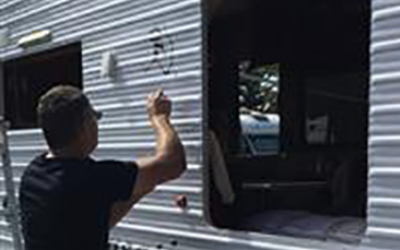 You can also find us below: