Gutter Cleaning in Walkerville
Gutter Cleaning Walkerville 
For professional gutter cleaning, clearing yards and cutting hard-to-reach tree branches, contact us, Absolute Gutter Suckers. We'll flush your downpipes and make sure they're working well. You'll look up to your debris-free roof after our visit. We always clean up after ourselves, leaving your property spotless. Our team of experienced roof experts can work on single and multi-storey houses, strata complexes, commercial buildings, factories, and sheds. We're the local gutter clearing service for Walkerville. Get in touch with us today on 0401 092 286.
Hire a gutter expert
Cleaning gutters isn't an easy task. More importantly, it's not a safe one. There are many accidents that happen as a result of getting up on the roof. You need the right equipment, as well as safety knowledge. It's not as simple as pulling out a ladder. Don't hurt yourself – partner with us instead. We're qualified to work at heights. Ask us about gutter cleaning of debris such as leaves, and clearing downpipes and roofs.
Our Services
The fastest, most efficient service 
Highest standard of quality & service
The friendliest team you will meet
Prices that can't be beaten 
Monday to Saturday 9am-5pm
How often should my gutters get cleaned?
It's important to unblock your gutters every few months, especially if you live in an area surrounded by tall trees. If you can aim to bring in professionals at the start of every season, this will help keep your gutters performing well. A build-up of debris can lead to a number of structural problems, from leaks to roof damage. If left untreated, the gutters will eventually break under the pressure and expensive repairs will soon follow.
Safeguard your roof. Keep your gutters clear.
We have the equipment required to safely clear your gutters and keep your roof in a great condition. The high-tech wet dry vacuum system, harnesses, shoes, and gear. It's not a matter of simply climbing up a ladder. Our guys are specifically trained to confidently work at heights. It's what we do, every day of the week. Whatever you've got in your gutters, we've seen it before. Let us get rid of it safely for you.
Some household jobs should be left to the professionals, like cleaning your gutters. Don't put your safety at risk. It's not worth it. Talk to our team of gutter cleaners today on 0401 092 286. We'll travel to your Walkerville SA 5081 home.
Fast, reliable and efficient… this is what you can expect working with Absolute Gutter Suckers. We treat your home like it's our own.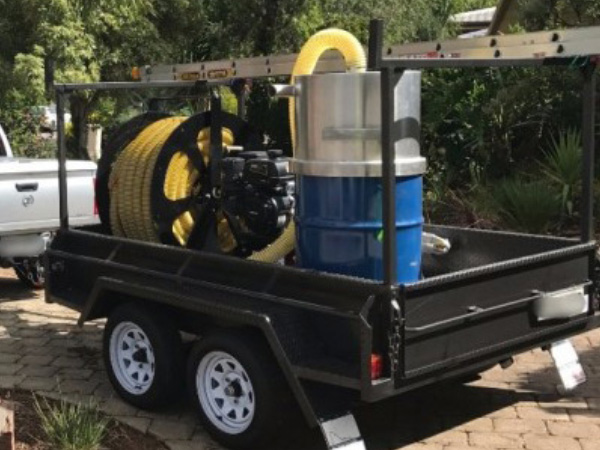 You can also find us below: