Mobile Caravan Repairs in Semaphore
Around Australia Caravan Repairs
Mobile Caravan Repairs Semaphore 5019
Is your stricken caravan located in the Semaphore area of SA? Do you require mobile caravan repairs to get your beloved van back on the road again?
Then call in the local experts from Around Australia Caravan Repairs. Our fully mobile service will come to you and solve your problems in quick time. Our expert services are friendly and our prices are great, so pick up the phone and call today.
Totally Mobile Caravan Repairs
It's usually not an option to be able to hook your broken down van up to your vehicle and tow it into a workshop for repairs. At AAC Repairs we totally get this, and that's why all our services are fully mobile. No matter what the issues, big or small, we'll come to where your van is, assess the problem, then initiate a quick solution. There's no need to stress when you've got the best mobile repairer at your service.
Resealing and Weatherproofing
The Australian climate can be harsh at times and unpredictable. There's nothing worse than suffering rainwater leaking into your caravan. It doesn't matter whether you're permanently located in a caravan park, or out and about travelling, it's not a problem you want to endure. Resealing and weatherproofing your van is one of our specialty services. Whether you have a leaking roof or windows, we'll get it sorted so you can live life in security and comfort once more. Don't risk water damage. Get those leaks fixed by us ASAP.
Our Services
Over 10 years of experience
The fastest, most efficient service 
Highest standard of quality & service
The friendliest team you will meet
Prices that can't be beaten
Monday to Sunday 8:00am– 6:00pm
Brake and Wheel Bearing Service
Just like any other vehicle in your fleet, caravans use brakes and wheel bearings. Brakes on your van are equally as important as the brakes on the vehicle that tows it. For a smooth and safe ride while your caravan is getting towed, its wheel bearings need regular greasing and maintenance, and periodic replacement. Keep safe while you're travelling and have us service and repair the brakes and bearings on your caravan.
About Us
If you are looking for the best mobile caravan repairs in the 5019 postcode area of Semaphore SA, look no further than your local experts that come to you – AAC Repairs. We are Adelaide's premier van repairer because of our fast and reliable service, as well as offering prices every caravan owner can afford.
Get in touch for the following services:
Resealing & weatherproofing
Suspension repairs
Awnings & window repairs
Fridge and hot water system repairs
Solar panel installations
Electricals
Plumbing
12 volt or 240 volt power
Brakes and wheel bearings
Fully mobile caravan repair service
All general caravan repairs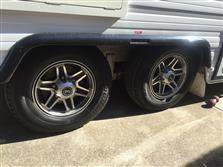 You can also find us below: