Bathroom Renovations in Prospect
Fresh Bathroom Solutions
Bathroom Renovations Prospect
Fresh Bathroom Solutions are your remodelling experts. If you're been thinking about renovating your house, talk to us. We specialise in bathroom, kitchen and laundry remodels. Our clients enjoy our full-service renovations – view vanities, basins, toilets, tapware, and accessories on display in our showroom first. Find us at 278C Prospect Road or call 8342 2114. With Fresh, you can sit back and relax while our experienced bathroom renovators bring your vision to life. Tell us your schedule and budget, and we'll work with it. Live in Prospect? We're your local bathroom, kitchen, and laundry team.
Bathroom remodelling
Your bathroom should be a place that you can relax in after a long day. Think of it like your mini oasis, a 'holiday' from your daily life. For your space to have everything you need, it starts with good design. Our team can create a bathroom that's both functional and beautiful. Whether it's a modern or traditional look, our designers can create it. We'll start by getting to know your lifestyle needs and taste. From there, we'll offer ideas on how the space can be updated.
Our Services
Over 30 years of experience 
The fastest, most efficient service 
Highest standard of quality & service
The friendliest team you will meet
Prices that can't be beaten 
Monday to Sunday : 8am – 6pm
About Fresh
While our name is Fresh, we've been around since 1980. We continue to be one of the leading bathroom renovations companies in South Australia for a few reasons–our long history, certifications in cabinet making and designing, and expertise in fine bathroom and kitchen design. We have a simple concept that drives our business. That is, to transform your bathroom so you can actually enjoy it, rather than just a room quickly freshen up in. Our designers will guide you through the decisions and create a space that's uniquely yours.
Tiling, vanities & tapware
Our high-quality custom-made products stand the test of time. We can design your vanities to suit your needs. For basins, baths, tapware, and tiling, we've got access to premium yet affordable products. It's the colour, texture, accessories and other small details that give your space life. From design planning and material selection to construction and ongoing advice, at Fresh Bathroom Solutions we do it all. Browse our portfolio of past work to get some ideas. Let your imagination run wild.
Talk to us today on 8342 2114. Book in a time for us to come out to your Prospect SA 5082 home or visit our showroom just down the road. Choose a local company for your renovation.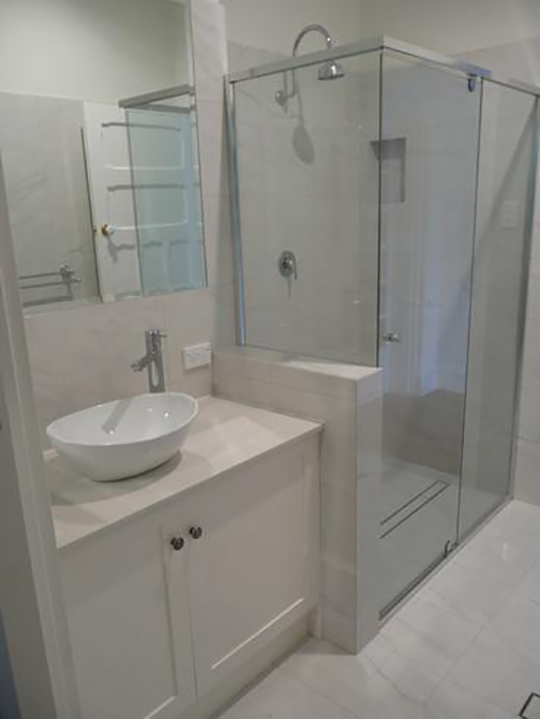 You can also find us below: