Dentist Port Vincent  
For a state-of-the-art dentist surgery that's only a 30-minute drive from Point Vincent, visit Lakeside Dental. We offer a wide range of general and cosmetic services such as restorative dentistry, invisalign, child teeth check-ups, root canal treatment, dental implants, crowns and veneers, wisdom teeth removal, and dentures and bridges. If you're new to Lakeside and would can't see the service you're looking for, give us a call. Our friendly team is ready to help you. Enjoy that lovely 'country' customer service, with the technology, modern equipment and experience you'd expect from an inner-city clinic.
Crooked teeth? Had braces years ago?
Always been conscious about your crooked teeth? Did you have braces years ago and your teeth have moved? Love the idea of straitening your teeth but you don't want to wear braces? Invisalign is great for aesthetic purposes. You can improve your teeth without conventional (and obvious) metal braces. Some of the benefits of choosing Invisalign include appearance, comfort, safety (no metal parts), and duration. Book a time to talk to one of our dentists about Invisalign.
Dental services covered by health funds
If you've got private health, chances are your dental procedure will be covered. Lakeside are contracted providers with most major health funds, so our fees are extremely affordable. We simply ask you to pay the gap, without having to lodge any claims. We're on the HICCAPS network, so you receive high-quality support at a great price. Maximise your health fund by utilising it at Lakeside for your dental check-ups and procedures.
Our Services
We offer more than just fixing your teeth
Our vision is to make you happy on all levels
Highest standard of quality & service
The friendliest team you will meet
Competitive Prices 
Monday to Friday 9:00am – 5:30pm
After hours by appointment
Natural-looking tooth implants
Missing tooth? Maybe you were involved in an accident during a sports game or another situation that caused an impact to your jaw. Dental impacts are an effective procedure for replacing missing teeth. Implants can restore strength, comfort, and mimic the natural look of the tooth.
Speaking of modern technology, we use a 3D imaging machine to help determine the size. Furthermore, Dr Kafagy is adopting the new technology of 3D guided surgery, using computer software to design it. A special milling machine then fabricates a guiding template through, which eliminates many of the classic complications of implant dentistry. This is just one example of the innovation you'll see in our procedures.
We get people coming from All over Yorke Peninsula, including Stansbury, Sheaoak Flat, Port Julia and Curramulka.
Live in Port Vincent SA, 5581? We're your local dental clinic. Feel free to ask us about the various ways you can care for your teeth in-between visits. We're here to support your dental hygiene journey.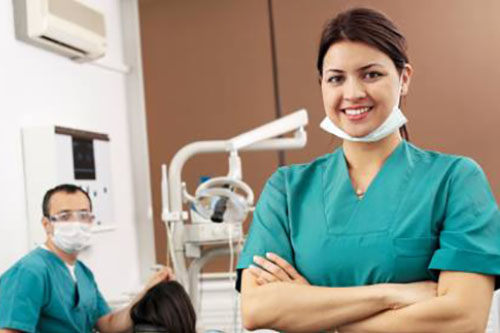 You can also find us below: