Mobile Caravan Repairs in Northern Suburbs
Around Australia Caravan Repairs
Mobile Caravan Repairs Northern Suburbs
If you need the very best in mobile caravan repairs in the Northern Suburbs of Adelaide, then call in the best in the trade – Around Australia Caravan Repairs. Our family owned and operated business is all about customer service, quality workmanship, reliability and the best prices. When you call on us, have peace of mind knowing that your beloved van is in great hands and that we'll get you going again. Servicing Adelaide's North like Gawler, Salisbury and Elizabeth.
Mobile Caravan Repairs
Caravan repair services and maintenance is all about convenience. You need a repairer that can come to wherever you are every single time. That's' the kind of service we offer day in and day out at AAC Repairs. Call us in and we'll assess the issue and provide a fix or solution as soon as possible. No job is too big or too small for our team of experts. We service the northern most regions of Adelaide like Evanston Park, Golden Grove, Two Wells, Gawler and Salisbury.
Weatherproofing & Resealing for Caravans
A leaking caravan is not what you want; especially when you're out travelling and camping in a remote location. Before you embark on your next journey into the great Australian outback or wherever your desire lies, get our team to check your van over and we'll perform any resealing or weatherproofing necessary so you can be assured your journey is both safe and comfortable. And don't risk further expense and issues due to water damage. If you have an existing leak, get it fixed ASAP.
Our Services
Over 10 years of experience
The fastest, most efficient service 
Highest standard of quality & service
The friendliest team you will meet
Prices that can't be beaten
Monday to Sunday 8:00am– 6:00pm
Caravan Suspension
Your caravan's suspension system not only serves the purpose of providing a smooth and comfortable ride, protecting everything that's inside. Quality suspension also keeps your van stable and safe while in transit. If your suspension is old, or you suspect it is causing any issues whatsoever when out on the road, have our team take a look at it. The suspension might just need some maintenance or it could need replacing. Don't take chances with your safety. Call us in today.
About AAC Repairs
If you are seeking the most reliable mobile caravan repairs service in the Northern Suburbs of Adelaide SA, then call in your local and proven experts – Around Australia Caravan Repairs. Affordable prices for high quality workmanship is what our family owned and operated business is all about.
Choose us first for:
Caravan awning & window repairs
Fridge and hot water systems
Caravan solar panels
Electricals & plumbing
Resealing & weatherproofing
Suspension repairs
Brakes and wheel bearings
Mobile caravan repairs and servicing
All general caravan repairs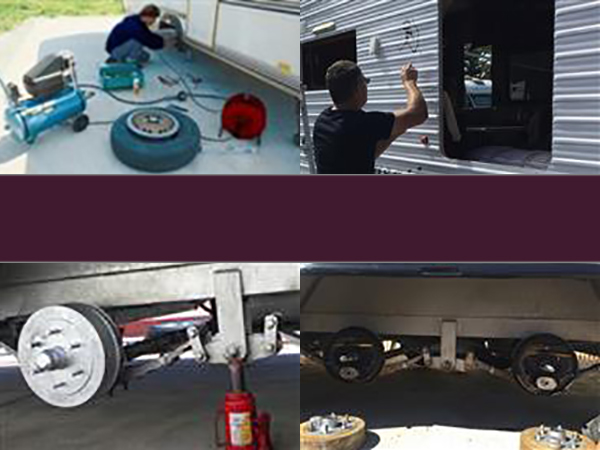 You can also find us below: