Jumping Castles in Modbury
Jumping Castles Modbury
Keen to hire a jumping castle for your child in Modbury? Character Jumps have one of the largest ranges of characters to choose from for your child's next birthday party or event. Delight your kids, with Disney Princess 2, Frozen, Cars, Toy Story 3, Finding Nemo amd Paw Patrol jumping castles. Turn the ordinary times into a memorable time. Your children will never forget this party; and jumping castle prices are more than affordable. At Character Jumps we provide the best range of bouncy castles for all ages, water slides, combos, Slushie machines and sumo suits in town. Our inflatable fun is safe and our jumping castles are extra well made. We don't stint on anything, to ensure that you have the best time. Call us today to find out more, or click here to be contacted. Visit our website
Water Slides
At Character Jumps, we not only have a huge range of bouncy castles, but, also water slides and combos for you in Modbury and surrounding suburbs. Dry and wet water slides to entertain your children and all their friends for hours of fun. Choose from the Shark Slide and Surf the Wave for your next kid's party or event. Talk to Tim or Lisa today about our many jumping castles.
Our Services
Over 12 years of experience 
The friendly, most efficient customer service in Adelaide
Highest standard of quality & attention to detail
The friendliest team you will meet
Prices that are some of the most competitive
Monday to Sunday 8am-6pm
Slushie Machines
We have Slushie machines for your kid's party in Modbury. See smiling faces slurping on straws stuck in Blue Lemon, Purple Grape, Cola, Pine-Lime Green, Raspberry, Strawberry and more. Frozen fun for all ages!
Character Jumps has frozen daiquiri cocktail machines for hire for adult parties too. Your City of Tea Tree Gully party or event will reach its apogee with some seriously good cocktails. Easy to use and all set up with a range of sensational mixes on offer. Great for large events and a talking point for all your guests to enjoy.
Sumo Suits
Character Jumps have sumo suits and giant boxing gloves, plus, Adult jumping castles to turn any party into a sure-fire hit. See Superman and Wonder Woman go at it in a bouncy boxing ring. Marital disputes sorted, surrounded by wet yourself laughter from all their friends and family. Why put on a boring party when you can put some bounce into things?
Safe Jumping in Modbury
Character Jumps provide safety first fun times for your kids and adult guests. All our jumping castle hires exceed Australian safety standards; and we are fully insured. Contact us today.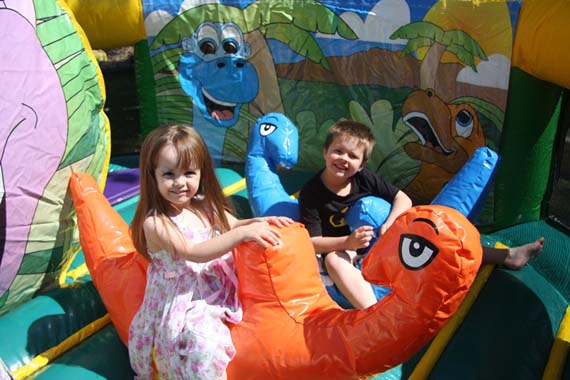 You can also find us below: