Mobile Caravan Repairs in McLaren Vale
Around Australia Caravan Repairs
Mobile Caravans McLaren Vale 
For fast, affordable caravan repairs, call us. At Around Australia Caravan Repairs, we focus on maintenance and servicing. We only work on caravans and motor homes, so by choosing us, you're getting a specialist service. Are you thinking about going on a road trip soon? Get us to inspect your vehicle first to avoid any issues on the journey. We recommend having your van checked every year by a professional, particularly before travelling. Our technicians will come to you in McLaren Vale. Get in touch with us today on 0432169106.
Problems with your caravan?
We've worked on vans that have broken down due to transmission failure or engine issues. This requires a different skillset to that of a car mechanic. By choosing us, you'll get technicians that specialise in caravan repairs. We only use premium brand parts and materials to promote the lifespan of your van. No matter what issue you're having with your vehicle – a water leak, broken window or a flat battery – we can help. Some of the services we provide include suspension, wheel bearings, awnings, solar installations, 12 volt or 240 volt, windows, and all repair work.
Our Services
Over 10 years of experience
The fastest, most efficient service 
Highest standard of quality & service
The friendliest team you will meet
Prices that can't be beaten
Monday to Sunday 8:00am– 6:00pm
Caravan parts and accessories
If you have a problem with your van, we have the products to fix it – most likely on the spot. We understand how frustrating it is to breakdown in the middle of nowhere, on your way to the next destination. This is why it's important to invest in regular maintenance to prevent emergencies. Hire us to visit your property give your van a thorough check. There could be hidden issues that you only notice mid-journey. Your van isn't something you use every day, like your car. Whenever you're getting ready to take it out on the next trip, talk to our technicians.
Book a quote – caravan inspections
We understand that caravanning is more than a hobby. It's a passion and a way of life. But it also takes some preparation to ensure your trip is a memorable one, for the right reasons. At AACR, we pride ourselves on personal customer service, fast turnarounds, and quality workmanship. Our repair and maintenance work is cost-effective and most certainly cheaper than paying for expensive repairs if a breakdown occurs. From regular maintenance to major fixes, we've got you covered.
We'll come to you in McLaren Vale SA 5171 today. Call us on 0432169106.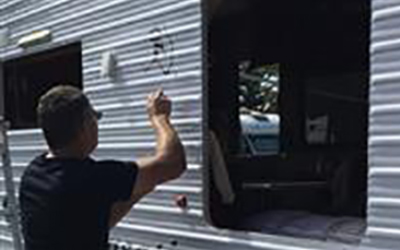 You can also find us below: