Roof Restorations in Elizabeth
Roof Restorations Elizabeth
If you are considering roof restoration in Elizabeth, remember the name Roof Expert Pty Ltd. We are the premier roof repair and replacement company in the northern suburbs of Adelaide. Our reliable and competitively priced service brings together quality workmanship, materials and expertise to produce consistent results. You will be rewarded with a brilliant looking and enduring new roof on your residence or place of business. Keep the rain at bay this season with the Roof Expert. Our services include: metal and tiled roofs, colorbond sheeting, polycarbonate sheets, mortar and repointing, gutters and downpipes, box gutters, roof respraying, roof leak repairs, ridge capping and reroofing. Call us for a quote today; you might be surprised at how affordable a new roof can be.
Roof Repairs & Replacements
Does your Elizabeth home or business require roof repairs or replacement? The Roof Expert Pty Ltd can professionally restore your roof to its former glory. Choose from a variety of materials and products. Get quality service and great value that you can trust. Our experienced tradespeople provide the technical know-how and industry best practice to ensure that every project is completed on time and on budget to our customer's satisfaction. Our rooves are the most visible surfaces on our skyline and no one likes to have an old and ugly roof. No need to feel embarrassed anymore, contact the Roof Expert now to discuss your situation and the affordable alternatives.
Our Services
Many years of experience 
The fastest, most efficient service 
Highest standard of quality & service
The friendliest team you will meet
Prices that can't be beaten 
Monday to Saturday 9:00am – 5pm
Roof Respray & Reroofing
The Roof Expert Pty Ltd can transform your old roof in Elizabeth and surrounding suburbs. Whether you require a roof respray or reroofing, we have the complete package to give you the roof of your dreams for less. Roof restoration made easy and competitively priced. Imagine a whole new colour sitting atop your house or building; and turning your place into the best looking home on the street. Don't put up with a decrepit roof for a day longer than necessary, when you can get expert relief. Brilliant new surfaces by Dulux and Metroll, which will last a lifetime. Talk to a roof expert today, about what we can do at your place.
Broken Tiles & Leaky Roofs
Those broken tiles can mean a leaky roof, and that can result in costly damage to your most valuable asset. Take action now, in Elizabeth, and contact the Roof Expert Pty Ltd for a quote on replacing and repairing your roof. Reroofing can be cheaper than you think; and it will increase the value of your home or business.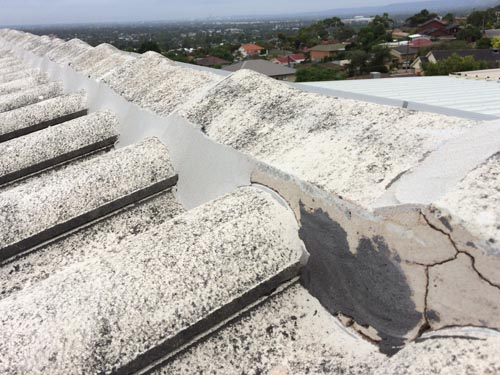 You can also find us below: