Mobile Caravan Repairs in Barossa Valley
Around Australia Caravan Repairs
Mobile Caravan Repairs Barossa Valley
We are a family owned and operated business that thrives on delivering great value to our customers. What sets us apart from most other caravan repairers is the fact that we offer a fully mobile service. If you need mobile caravan repairs in the Barossa Valley area of SA, then call us first. We can be there is quick time and have the problem sorted so you're back on the road again sooner rather than later.
Fully Mobile Service
A fully mobile service for caravan maintenance and repairs is the core of our business. After all, a caravan isn't something that you can just easily take into a local workshop. You need the least amount of inconvenience as possible, and that's what we provide. If your caravan has suffered damage, or you would like to make some additions or modifications, you require a specialised service that comes to you without fail.
Caravan Window and Awning Repair
One of the more common problems caravans tend to suffer is either broken or damaged windows, or damaged awnings. The awnings especially can cop a lot of abuse from wind and weather, and without a functioning awning to provide shade, spending pleasure time in your caravan can seem more like a nightmare. Trust AAC Repairs for all your awning restorations and window repairs, and we'll help make caravan life comfortable again.
Our Services
Over 10 years of experience
The fastest, most efficient service 
Highest standard of quality & service
The friendliest team you will meet
Prices that can't be beaten
Monday to Sunday 8:00am– 6:00pm
Solar Panel Installation
Always needing to run on 12 volt or 240 volt power supplies can be restrictive at times, particularly when you are travelling in more remote areas. Having the ability to harness the power of that great Australian sun is a wise move, that's why you can count on us for expert solar panel installation for your caravan. Solar energy is just another option that makes perfect sense for the outback traveller and it will ultimately save on your energy costs and the environment as well.
About Around Australia Caravan Repairs
For the best in caravan repairs in Barossa Valley, call in the number team of repairers from AAC Repairs. Remember, we offer a fully mobile service for your convenience. This has given us the reputation for being the premier repairs and service company for caravans in all of Adelaide and surrounding areas.
Let us assist you with:
Suspension repairs
Wheel bearing replacement
Awnings and windows
Solar panel installs
12 volt or 240 volt power supplies
All general caravan repairs
Fully mobile service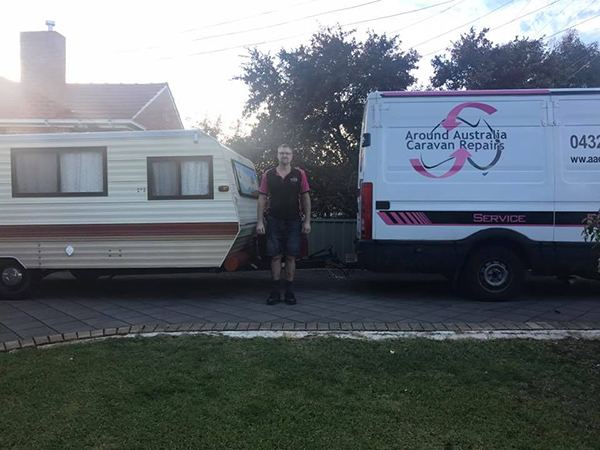 You can also find us below: